Services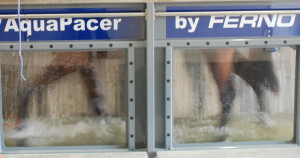 AquaPacer –an above-ground, underwater treadmill designed for a safe, effective exercise with 270 degrees of visibility to observe the horses movement.
The AquaPacer improves performance and accelerates conditioning with a low impact, full body workout.
Adjustable speed and water level offer great variability in the machine to shape to any horses' needs
The AquaPacer provides 40-60% buoyancy, which lessens the weight-bearing load on the horses' joints, while still allowing for horses to use their natural gait.
The hydrostatic pressure from the water decreases inflammation and improves circulation.
Natural resistance from the water builds up cardiovascular strength and endurance much faster than traditional conditioning methods.
The treadmill can be used dry, with minimal amount of water, or full of water, depending on your horse's fitness level and needs.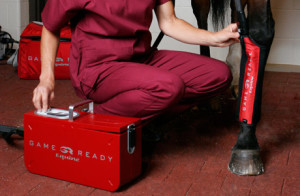 Game Ready System– dry-cold and active compression unit.
Great for injury prevention/maintenance, injury recovery, post workout therapy, chronic or acute lameness, cellulitis, tendonitis, pre/post operative care, bowed tendons, stocked-up legs, wind puffs, and more.
The Game Ready is used to reduce pain, muscle spasms, tissue damage, and swelling, which allows for quicker and better healing.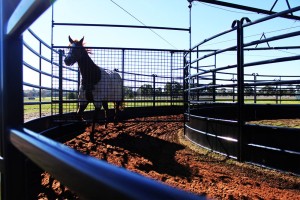 Priefert 6-horse panel walker– A safer, more natural alternative to the traditional walker.
The design allows horses to move freely in a controlled environment for the ultimate workout.
Unlike traditional walkers, the Priefert Panel Walker eliminates the need to tie your horses to the walker so they are able to move about more freely and naturally.
Panel walkers "push" the horse instead of "pulling" it. Horses that have never been in a walker before become trained to use the walker instantly.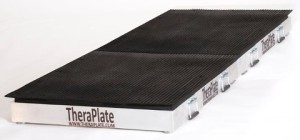 Theraplate– zero impact vibration therapy platform.
The theraplate is used as a natural, drug free, pain relief through stimulation of muscles and nerves.
A powerful, yet gentle therapy that will not injure or aggravate existing issues.
Some of the benefits of the theraplate include injury prevention, more rapid healing, reduced pain and swelling, improved joint health and function, increased hoof growth, and increased circulation, bone density and muscle mass.
It can also be beneficial for pre/post workout.
Other Services
Hand walking, if necessary
Daily turnouts
Daily grooming
Administering any supplement or medication
Daily wound care, bandage changing, medical care
We will work with you to create a customized program to suit your equine athlete!
Please contact us for more information and/or pricing on our services!